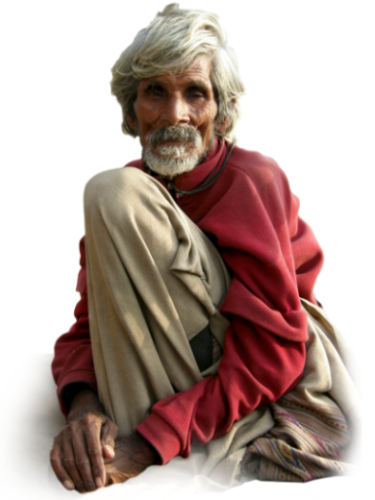 This man is blind, hungry and afraid.
He will die soon, alone in the street.
What we are doing in the world isn't working. Our social systems can't meet our needs. Our economic systems stagger from recession to recession and favor the already rich. Our political systems make hollow promises they cannot keep. The world is plagued with terrorism, war, economic need, ignorance, poverty, repression of women, environmental degradation and a host of other maladies. We need an alternative!
Potentialism offers an Alternative.
Potentialism is the first new global socio-economic model to be defined in almost 200 years. It is compatible with existing systems, but it offers an alternative to the dysfunctional aspects of previous models. It offers an alternative to their endless failures.
The GlobalHouse Group of non-profit and social-profit companies was created, each with a unique mission, to collectively be a pragmatic, functioning vehicle that will apply the new socio-economic model of Potentialism to help resolve our personal, social and economic problems.
The GlobalHouse Group currently consists of three companies, each tasked with a specific mission:
GlobalHouse, Inc. is a non-profit California 501 (c) 3 corporation. It was formed in 2002 to disseminate the new social science of Potentialism. In addition, GlobalHouse, Inc. helps individuals resolve personal problems and live happier, more meaningful lives. It also supports other small non-profit organizations. Currently, it is helping five non-profit organizations in the underdeveloped, fledgling democracy of Nepal.
GlobalHouse Management, LTD. is a Social Profit Corporation. Specifically, it is an international financial, management and operating company that provides world-class expertise in business, finance, leadership and other disciplines to benefit developing countries and groups around the world. It is especially relevant in the less developed countries and among the disadvantaged peoples of the world that have languished in poverty, hunger and despair for so long. No economic or political system to date has been able to alleviate their problems.
GlobalHouse Consulting, LLC. is an international leadership, conflict resolution and high-performance consulting firm that provides these services to businesses, groups, corporations and governments around the world. Among the team's humanitarian efforts, their negotiating skills recently helped mediate a civil war that had killed tens of thousands of people.
Learn More